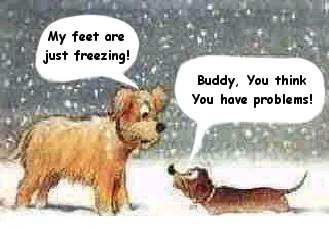 Yeah, boy....I suspect this is exactly how my little Dachshund must feel.
It is freezing out there. 21 degrees.
But at least it is very sunny and clear so I can't complain about that.
I can complain about the cold though.
Damn it's just too cold.
This weekend was very productive.
I took a bunch of stuff to the Goodwill store, hung a bunch of pictures, cleaned off my computer desk, hubby cleaned off his gun cleaning table, he hauled a truckload of trash to the dump and I burned a bunch of wood outside.
It was stuff that was long overdue and really really needed to be done.
Of course it hardly put a dent in this place but every little bit helps.
CrazyFriend came out on Saturday, we went and had lunch (I don't remember where) and did a bunch of shopping. She's gone 'round the bend. But unfortunately, there is nothing I can do about that. Oh well. It was bound to happen eventually. She got herself into this mess and she has to deal with it. She gets upset with me when I won't say things that "help" but guess what..I've given up trying to "help". This is her problem.
That's pretty much the exciting start of our new year.
Hubby's birthday is Thursday and I am still trying to figure out what to do about that.
He doesn't want anything or need anything.
I think I may just take him out to lunch somewhere nice.
Okay....gotta decide what I'm doing today.
And how I am going to stay warm doing it.
Brrrrrrrrrrrrrr.